Our position as market and quality leader in the area of vision systems for commercial vehicles of all types results from our decades-long experience in developing and producing mirror systems including our own state-of-the-art manufacturing equipment. We develop a wide range of individual solutions and products which meet all of the requirements posed by the global market. Our portfolio includes mirror systems for light commercial vehicles, buses, recreational vehicles, trucks, construction equipment, agricultural vehicles and special-purpose machines.
We provide convenient and safe solutions by equipping our mirrors with optional electrical controls and in heated configurations (12V and 24V) or with a folding mechanism. All of our mirror systems undergo extensive testing and meet all legally required field-of-vision provisions as well as current standards and industrial guidelines. This is true for all types of application: main mirrors, wide-angle mirrors, roof mirrors and front mirrors.
Design Engineering and CAD
Our many years of experience as mirror system supplier enable us to carry out complex projects, from concept design to prototyping all the way to production. Individual and innovative developments meeting specific requirements and always providing added value for the customer – that is our goal. To achieve it, we use ergonomics analysis tools and computer-aided design (CAD) software. Our standard products meet all legal requirements and provide excellent ergonomics, fields of vision and safety. Based on these systems, we create customized solutions for your vehicle which comply with all applicable regulatory provisions.
Field-of-Vision Simulation
As vision system experts, we use only the most effective state-of-the-art vision analysis methods. Our systems meet all applicable regulatory and industrial standards and are based on the latest cutting-edge technologies. When developing mirror-based vision systems, for example, we rely on the software programs CAVA for CATIA V5 and EMM-Check.
We use them as early as in the initial design phase to check for regulatory compliance and to ensure that the very first prototypes meet or even exceed all legal requirements. Ergonomic simulations, including physically accurate reflexion calculations, help us determine how the driver actually experiences certain visibility scenarios. To achieve this, we use light beam tracking algorithms and create photorealistic renderings, even before any prototype is built.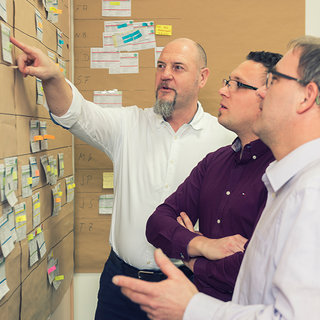 At MEKRA Lang, project management represents team- and customer-oriented expert collaboration across organizations. It is our goal to understand and meet our customers' needs and implement closely coordinated, innovative product solutions which add value in terms of quality, delivery time, profitability and cost effectiveness. Our project planning and steering activities are based on the product development process set forth by applicable automotive standards. During the development phase and throughout the entire project, we support our customers and work closely with them and our suppliers.
When we plan and develop new products and the corresponding production processes, we follow the so-called 3P (production preparation process) principles. This means that we evaluate product and process requirements as early as in the development phase, enabling us to identify problems, correct the root causes and ensure a smooth transition to large-scale production in a timely manner.
At MEKRA Lang we are committed to implementing the Lean Management philosophy to implement smooth, error-free and most of all customer-oriented business processes. Using target/actual comparisons based on specific metrics, we initiate and execute the required corrective measures, once deviations are detected. Through intelligent project design, a gradual improvement of the system as a whole is achieved.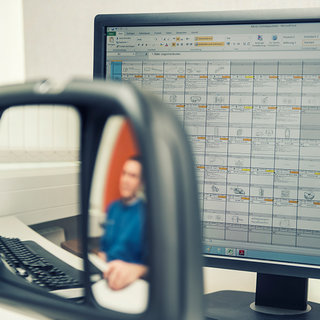 MEKRA Lang offers well-established standard solutions for a variety of individual vision requirements. Thanks to the modularity of our standard product portfolio we can meet the specific needs of many industries, markets and customers. We are equally committed to honoring our quality pledge by striving for the continuous improvement of our standard solutions.